In Consideration of Aspirational Ethics—The Lynch Pin of What Influences our How, What, Why, and When as Professionals Providing Care (Intermediate/Ethics, Clinical SUD/MH)
Legal and operational issues in ethics are usually those which are given most attention due to the content which can be known and challenged or judged.   Aspirational ethics are at the very core of each clinician's reasons for doing the work they do, how they approach it, and how they prepare for and take care of themselves doing it. This workshop focuses on personal traits, attributes, desires, beliefs, and actions that can contribute to a psychological and emotional clinch for clinicians, when unaware of their humanness, biases, prejudices, and frailties.  Clinical work with those who have addiction and mental health disorders is challenging in ways that change daily. The variability is as diverse as the variety of factors that contribute to making humans who they are and what they think, do, and want. There is no formula, procedure, or event type that creates desired outcomes for even one person completely. This training is intended as a dialogical process with a short didactic presentation followed by small group work with vignettes related to preparation, fitness, openness to what is new, and professional humility.
Training Objectives
Participants will actively explore how their personal traits, attributes, desires, beliefs, and actions influence patient outcomes.
Participants will examine their ethos for seeking patient autonomy in clinical practice.
Participants will validate their complex humanity as a person engaged in treating others.
Speakers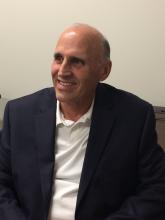 Though Jeb has a long and journeyed past in addiction and mental health treatment, he remains an active learner from patients, colleagues, and science. He began as a novice counselor in 1973, and had many roles and experiences from direct care, to supervision, directing, leading and teaching.  His graduate studies in Community Psychology and post-graduate training in Gestalt Therapy encouraged an openness to the present moment, with all the creativity, energy and choices each moment brings.  Jeb has provided trainings at state, national and international conferences.  He has been certified over 43 years and finds the PCB conference an event at which to celebrate old friendships, learn from others, and welcome new professionals to the special work of treating those who suffer from addiction and mental health disorders.